Learning Nuggets for Microsoft Applications
Moment of Need Support and Learning
Learning Nuggets from E-Learning Office are small microlearning-based units for Microsoft 365, Office 2019, Office 2016, Office 2021 and Windows. They provide quick and focused just-in-time learning and support to users at the exact moment of need.
Nuggets relieve your helpdesk and your IT support
Our Learning Nuggets enable your employees to solve problems independently and efficiently when working with Microsoft 365 and Office applications.
Learning Nuggets are short units of knowledge. They provide quick and focused answers to users at exact moment of need while working within an application.
Users can quickly find answers to questions about Office applications without IT support or the helpdesk.
We offer over 1,200 nuggets (per language) for all relevant Office applications.
Our nuggets are also available in the following language versions: English, German, French, Spanish, Italian, Russian, Portuguese-Brazilian, Japanese and Chinese.
Nuggets are available for Office 2016-2019, Microsoft 365 and Office 2021.
Nugget Finder
Our intuitive Nugget Finder is provided with our Learning Nuggets.
Instead of logging into an LMS, calling the help desk or searching the internet, our Nugget Finder delivers the right solution directly within the business workflow.
The Nugget Finder is a convenient search engine that gives users an easy way to quickly find the right Nugget. Relevant information can be found with just a few clicks. Learners simply open the Nugget Finder and enter search terms. Filters can also be applied for searching specific applications and content languages.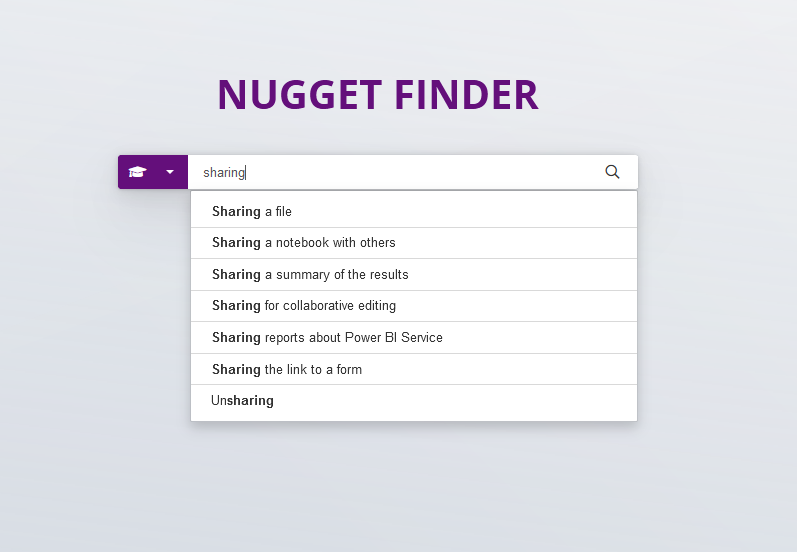 Nuggets for all learning styles
Some types of learners only need text to grasp new facts. Other learners, on the other hand, benefit from a more detailed explanation using screenshots or a video.
That's why our nuggets are built in a four-step approach. Every type of learner will find the optimal format in our nuggets, which guarantees optimal support according to personal preference.
A single nugget includes these four elements:
Written step-by-step instructions are given in text form to help perform the task - here for example, to quickly support an end-user in learning how to participate in a Microsoft Teams meeting.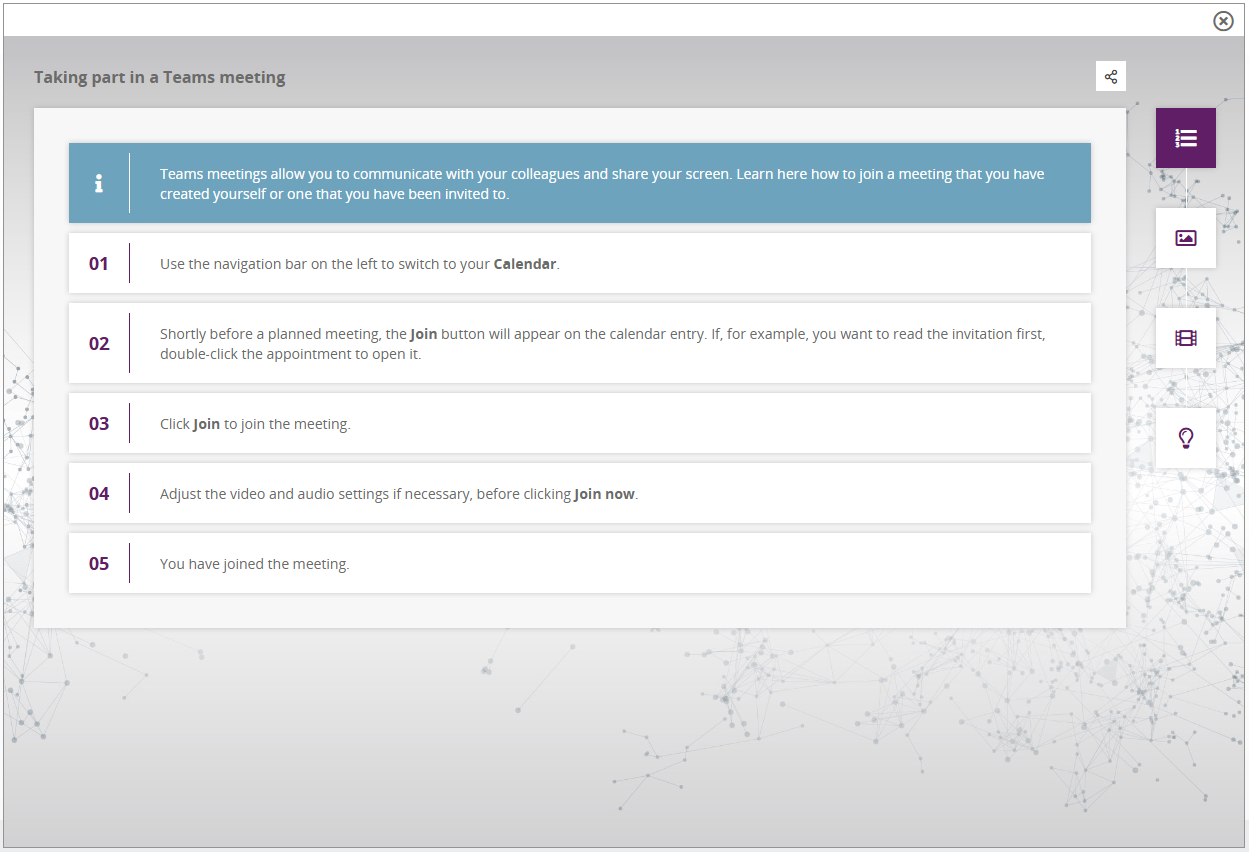 Users who prefer visuals can choose to view the step-by-step instructions together with application screens and illustrations.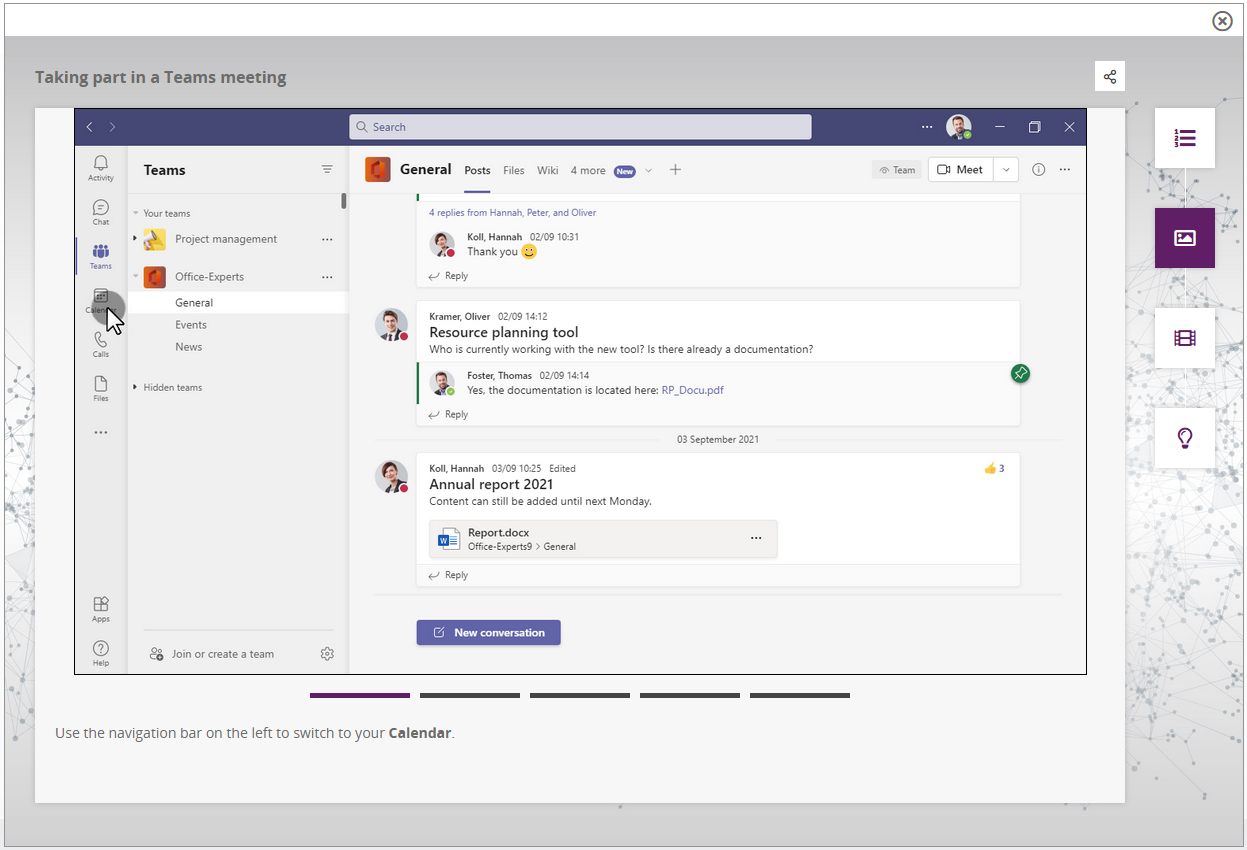 The functional task is explained and demonstrated in a short video tutorial.
In addition, closed captioning can be switched on or off for those who prefer read the video instructions or if there is no audio device available.
There is also an option to view the video in full-screen mode.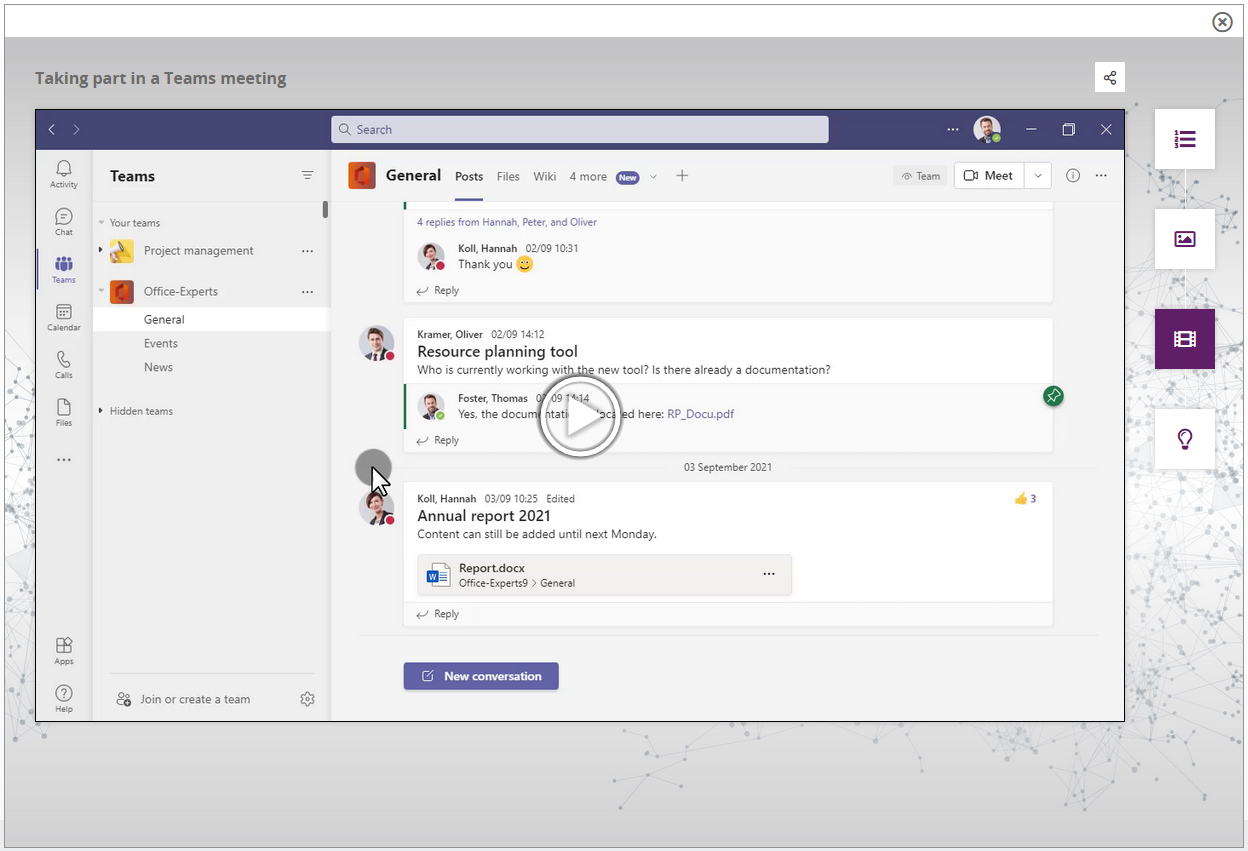 The light bulb button provides additional information and tips on the respective program function.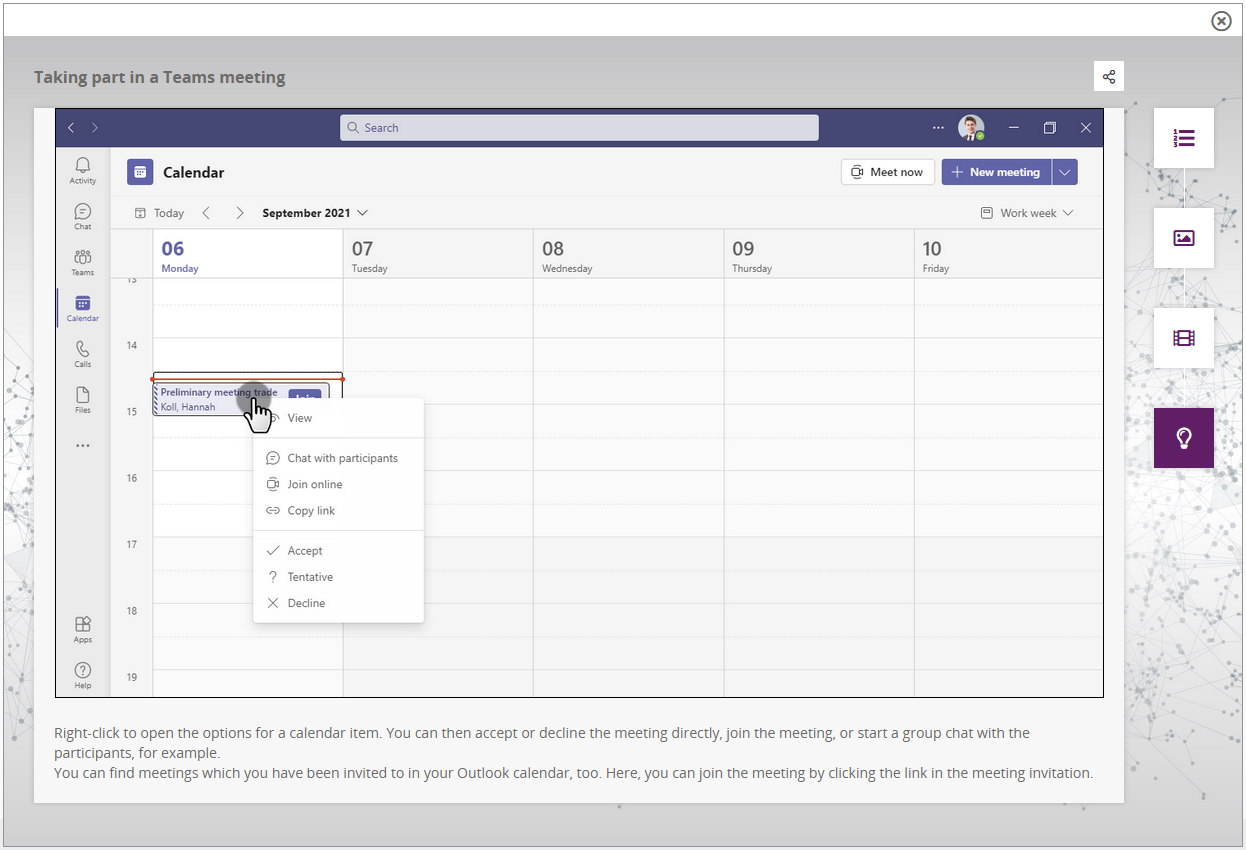 Flexible Deployment Options
We provide you with flexible ways of deploying our Learning Nuggets into your learning and support environment.
1. Nugget Finder - The Simple Standard Solution
Our Learning Nuggets and the Nugget Finder are stored on your own web server. Learners can then open the Nugget Finder in a web-browser with a hyperlink.
2. Nugget Finder - Integrated into Microsoft Teams
Microsoft Teams already serves as a central point of contact for collaborative work and team communication for many users.
You could easily link our Nugget Finder to a tab in Microsoft Teams for team members to conveniently and quickly access the Office 365 learning tutorials they need and to collaborate on topics of interest.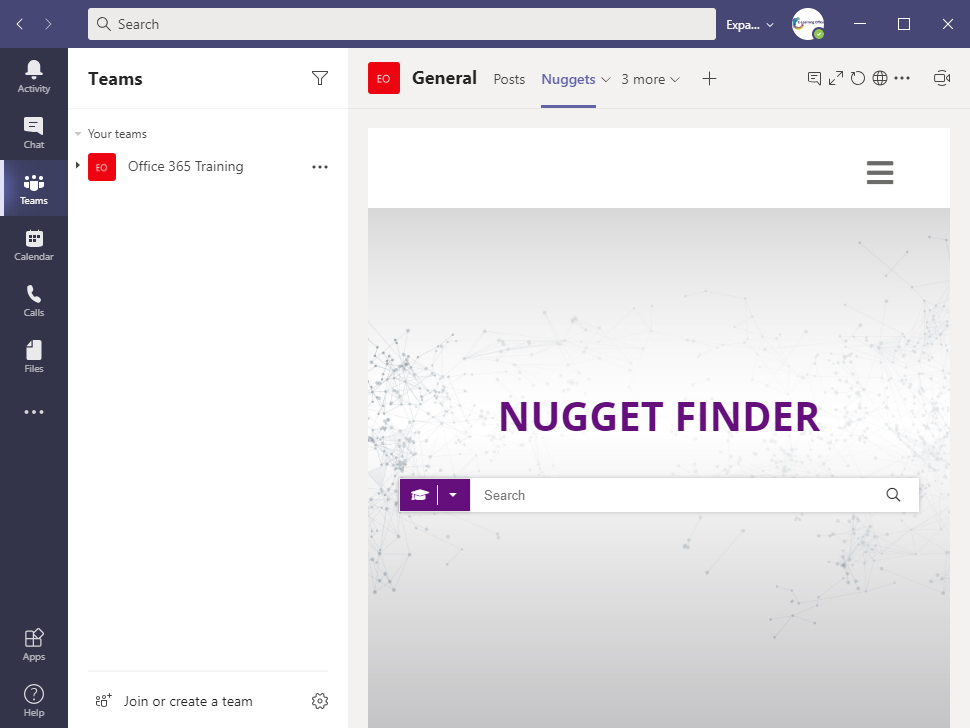 3. Create Custom Learning Steams in Your Own Learning Environment
Our Nugget Finder is a flexible performance support system that can be perfectly adapted to your individual needs.
Have you already set up your own learning environment and would like to expand it with content about Microsoft 365?
Our nuggets are available in different formats and can therefore be used flexibly. For example, embed the nugget videos on your in-house video platform or in Microsoft Stream or embedded into a SharePoint training site.


Customizable
Our nuggets and the nugget finder can be customized for your individual needs.
Design Options
Integration of your company logo
Adaptation of the color world to your corporate identity
Functional adjustments
Individually adaptable for every need
If your employees only use certain applications and functions, entire application packages or individual nuggets can be activated or deactivated.

Create Your Own Nuggets
With our Nugget Creator you can very easy create and edit your own learning nuggets for Microsoft 365 applications as well as any other in-house business applications. This enables you to optimally map and integrate company-specific procedures and processes for other tools and applications into the Nugget Finder.
We Provide Off-the-Shelf Learning Nuggets for these Microsoft Applications:
Microsoft Word
Microsoft Excel
Microsoft Outlook
Microsoft PowerPoint
Microsoft OneNote
Microsoft Planner
Microsoft Teams
Microsoft OneDrive
Microsoft SharePoint
Microsoft Power BI
Microsoft Delve
Microsoft Yammer
Microsoft Windows
Microsoft Edge
Microsoft Forms
Microsoft Whiteboard
Microsoft To-Do
Content Packages for Learning Nuggets
Our Learning Nugget content packages mirror the same package names and include the same application content as those in our Course Packages.